Media Coverage
IIFL Home Finance launches India's first handbook for affordable green housing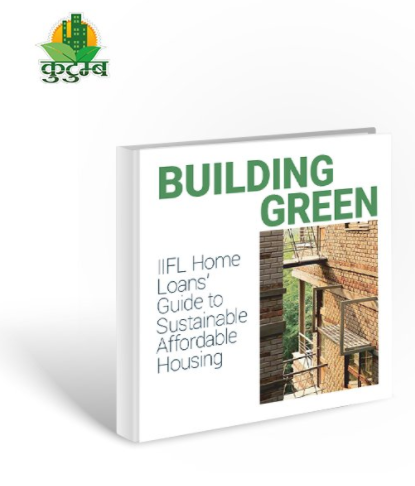 IIFL Home Finance has launched India's first handbook for affordable green housing to provide consumers, builders and construction ecosystem with a definitive framework for building green homes.
The handbook conceived by IIFL and architect Ashok Lall was recently launched at a virtual event attended by leaders from the industry regulator, corporates, funds and socially responsible housing community.
IIFL Home Finance has already been propagating the idea of affordable green housing in India through Kutumb and addressing issues of financing, technical know-how and creating a common platform for solution.
With the intent of reducing carbon footprint and supporting climate action in the longrun, IIFL Home Finance provides extensive support from inception to delivery of the project through their highly skilled technical team of Green Value Partner.
With increased focus on climate action globally, finance institutions and funds across the world are recalibrating their financing and investment strategy and providing higher allocation to businesses that have adopted sustainable approaches.
In this context the role of the housing sector becomes important as the construction industry is one of the biggest consumers of non-renewable resources. Even after completion, most buildings continue to be responsible for huge CO2 emissions.
Buildings in the country already accounts for over 30 percent of India's electricity use, and two-thirds of the buildings that will exist in India by 2030 are yet to be built. There is a sizeable opportunity in pre-empting these consequences considering that much of this growth in floor spaces.
IIFL Home Finance aims to work closely with government, industry bodies, multilateral agencies and certification agencies to ensure affordable green housing for all. To ensure adoption of green housing on a large scale, right certification is a necessity.
The Indian Green Building Council (IGBC) and Green Rating for Integrated Habitat Assessment (GRIHA) aim to enable a sustainable built environment for all and facilitate India to be one of the global leaders in the sustainable built environment by 2025.
More Media Coverage Articles